Washington Redskins vs. Philadelphia Eagles Monday Night Football Preview
Monday, December 3 at 8:15 PM ET
Lincoln Financial Field
43°F
Periods of rain; areas of fog
Winds from the E 7 mph
Gusts: 10 mph
Coverage: ESPN
The Washington Redskins visit the Philadelphia Eagles in a do-or-die game on Monday Night Football. Both teams are fighting for the NFC East title and a win for either squad could go a long way in making them the main contender for the Cowboys.
While both teams need the win, the Eagles are in a more dire situation, since they're one game behind the Redskins and a game and half behind the Cowboys, so a loss would pretty much erase all hopes of winning the division.
Philadelphia needs Carson Wentz to be at his best on Monday. Washington witnessed firsthand what made Wentz an MVP candidate last year. The signal-caller averaged 287.5 passing yards and three touchdowns in two games against the Redskins last season, with the Eagles winning both games by double-digits, 30-17 on September 10, 2017 and 34-24 on October 23, 2017. He was particularly impressive in the second meeting, when he threw four touchdown passes and also ran for a season-high 63 yards on eight carries.
Carson Wentz then went down with a torn ACL in the 43-35 win against the Rams on December 10 and he's been a bit slow returning to form. Wentz finished with 33 touchdowns and seven interceptions in 13 games last season but he has 16 touchdowns and six interceptions in nine games this season, so it's clear that his touchdown-to-interception ratio has dropped significantly and he's not being used as actively in the run game, averaging just 2.9 rush attempts this season, down from last season's 4.9.
The Philadelphia offense hasn't found a groove due to injuries, including Carson Wentz missing the first two games of the season and they're still a work in progress. Wentz threw three interceptions and no touchdowns in the 48-7 road loss against the Saints on November 18 but he bounced back in last Sunday's 25-22 win against the Giants, completing 20 of 28 passes for 236 yards and one touchdown.
The Eagles haven't been able to run the ball well because their running back corps have suffered a variety of injuries. Jay Ajayi was placed on injured reserve after just four games and Darren Sproles has played just one games, though he could return on Monday.
The depleted run game has put more pressure on Wentz and the passing game and if that holds in this game, the Washington secondary can be in trouble, as cornerback Quinton Dunbar might miss the game because of a nerve problem in his leg. If Dunbar is out, rookies Greg Stroman and Danny Johnson, who are having up-and-down seasons, will be tested on the outside.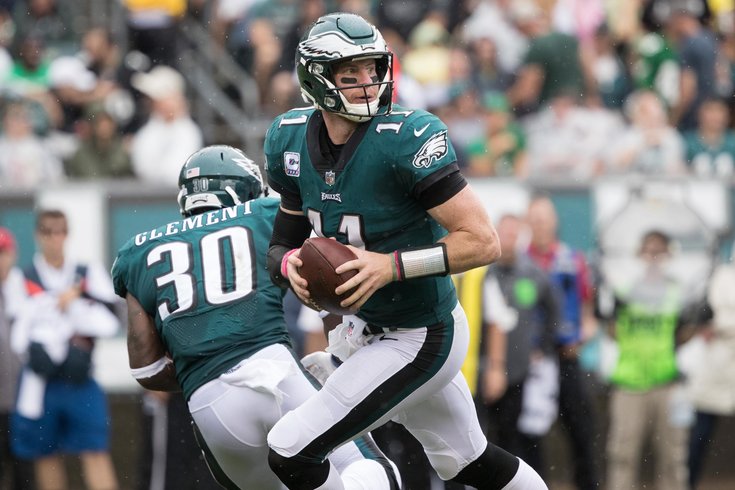 NFL Trends:
The Washington Redskins are:
3-7 ATS in their last 10 games against NFC East opponents
2-5 ATS in their last seven games after allowing more than 350 total yards in their previous game
7-20 ATS in their last 27 Monday games
0-5 ATS in their last five games in Week 13
The Philadelphia Eagles are:
6-2 ATS in their last eight home games against a team with a winning road record
15-6 ATS in their last 21 games in Week 13
The Eagles narrowly beat the Giants last week and they haven't won back-to-back games this season but if they're ever going to break that streak now is the time, going up against banged-up Redskins team with Colt McCoy under center.
NFL Pick: Eagles -6.5 (-110) at Jazz Sports